2023 Chrysler 300 in Clarenville, NL
Chrysler remains renowned in North America for creating performance luxury vehicles. The Chrysler 300 is particularly popular among owners who prefer full-size sedans with exquisite, elegant styling and opulent features. Here's what you can look forward to!
2023 Chrysler 300 Performance
The 2023 Chrysler 300 boasts an eight-speed automatic transmission and rear-wheel drive, with all-wheel drive available as an option. Choosing the base trims means you get the standard 3.6-litre, six-cylinder engine that generates 292 horsepower and 260 lb-ft of torque. For more power, choose a trim equipped with the 5.7-litre V8 engine that delivers 363 horsepower and 394 lb-ft of torque. This powertrain allows the 2023 Chrysler 300 to go from zero to 96.5 km/hr in 6.4 seconds. In celebration of the Chrysler 300, which has been available since 1955, Chrysler offers performance enthusiasts the 300C option. This limited edition model features a 6.4-litre V8 engine that puts out 485 horsepower and 475 lb-ft of torque. Experience ultimate power as this model takes you from zero to 96.5 km/h in a staggering 4.3 seconds!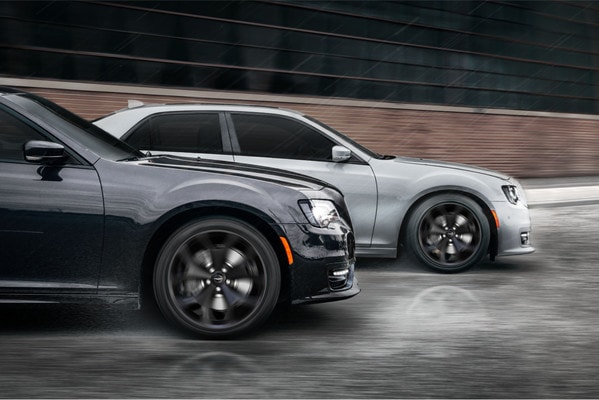 2023 Chrysler 300 Exterior
The sedan's elegant styling begins at the front end, where the hood gently curves downward while being accented by character lines. Angled teardrop-shaped headlights and daytime running lights are situated on either side of a large, nearly rectangular mesh grille. The lower body fascia encases a matching engine vent. A side view reveals a lower body sculpt across both door panels. High-cut and rounded, flared wheel wells showcase custom wheels, and a sharp line travels from one wheel and beyond the other to take eyes to the vehicle's rear. Geometrically shaped taillights border the trunk lid that boasts a sporty rear spoiler, while the angles and curves give the 2023 Chrysler 300's rear end a dynamic aesthetic.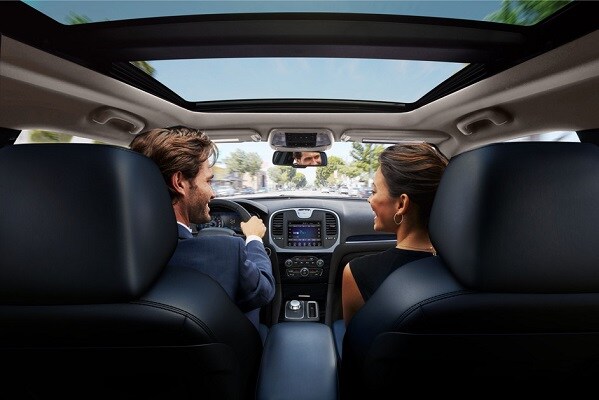 2023 Chrysler 300 Interior
The upscale 2023 Chrysler 300 interior is upholstered in premium fabrics and soft-touch materials that create an array of textures. Upgrading to the Touring L trim adds a luxurious leather upholstered interior. At this level, both front seats are power-adjustable and heated for year-round comfort and convenience. Stepping up to one of the 300S models adds sportier front seats. This trim level also includes a panoramic sunroof, which enhances the view for all. Even the base model boasts an infotainment system with an 8.4-inch touchscreen that enables smartphone integration, as well as a high-quality six-speaker audio system.
Purchase the 2023 Chrysler 300 Today
Visit us in Clarenville, NL, to explore the sedans we have on display and to finance your preferred model. Our dealership proudly serves customers from all over the region. We are conveniently located nearby the cities of Clarenville, Harbour, Hickmans, Milton, Shoal Harbour, and Sunnyside, NL. We are ready to assist you in building the Chrysler 300 of your dreams today!
Make an Inquiry